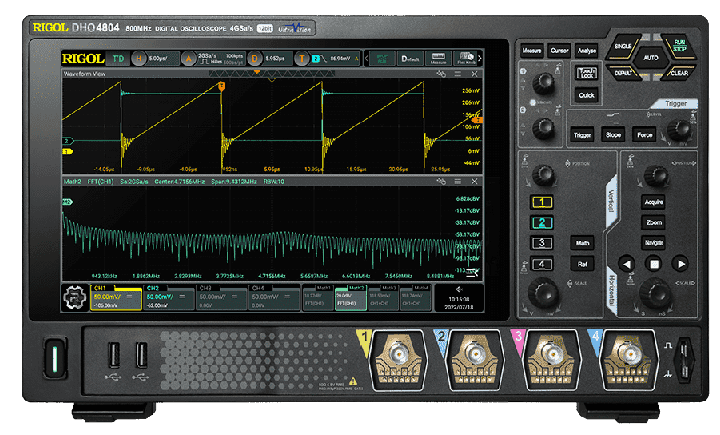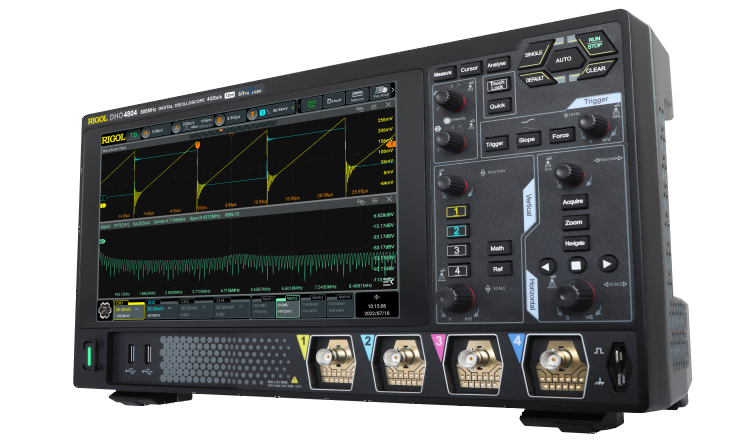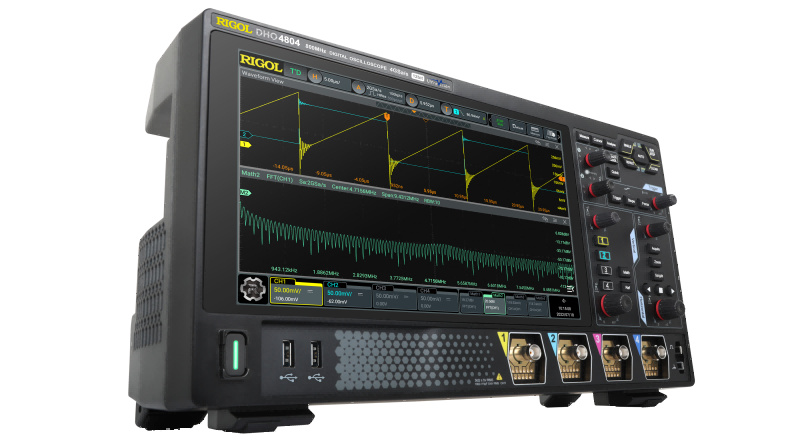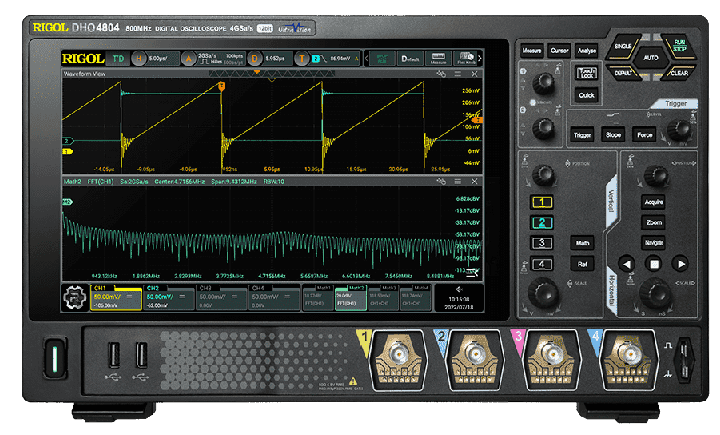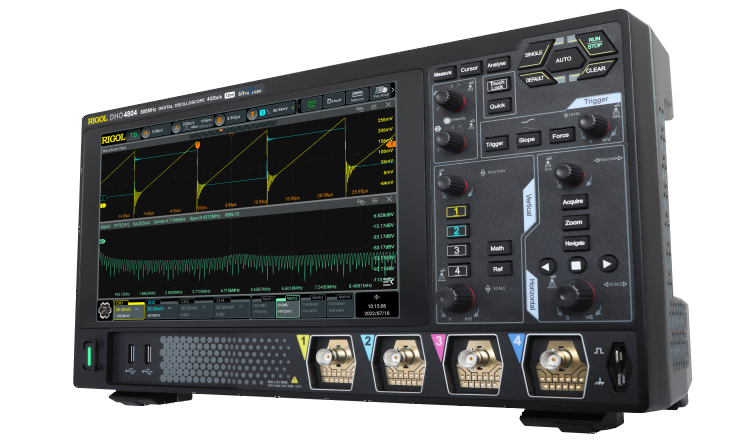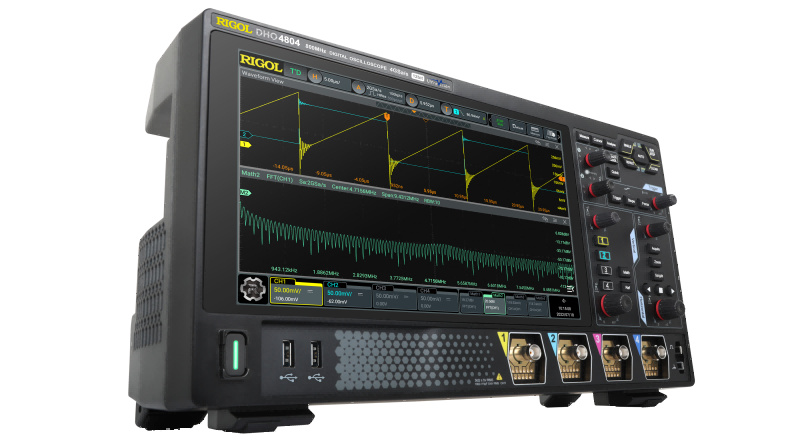 Digital Oscilloscope
DHO4000 Series
The DHO4000 Series Digital Oscilloscopes are equipped with a second generation chipset developed by RIGOL. With a low noise floor and 12 bits, these high-resolution oscilloscopes are capable of finding the tiniest signals.
4GSa/s
REAL-TIME SAMPLE RATE
4
ANALOG CHANNELSREAL-TIME
500Mpts(opt.)
MAX. MEMORY DEPTH
1,500,000wfms/s
WAVEFORM CAPTURE RATE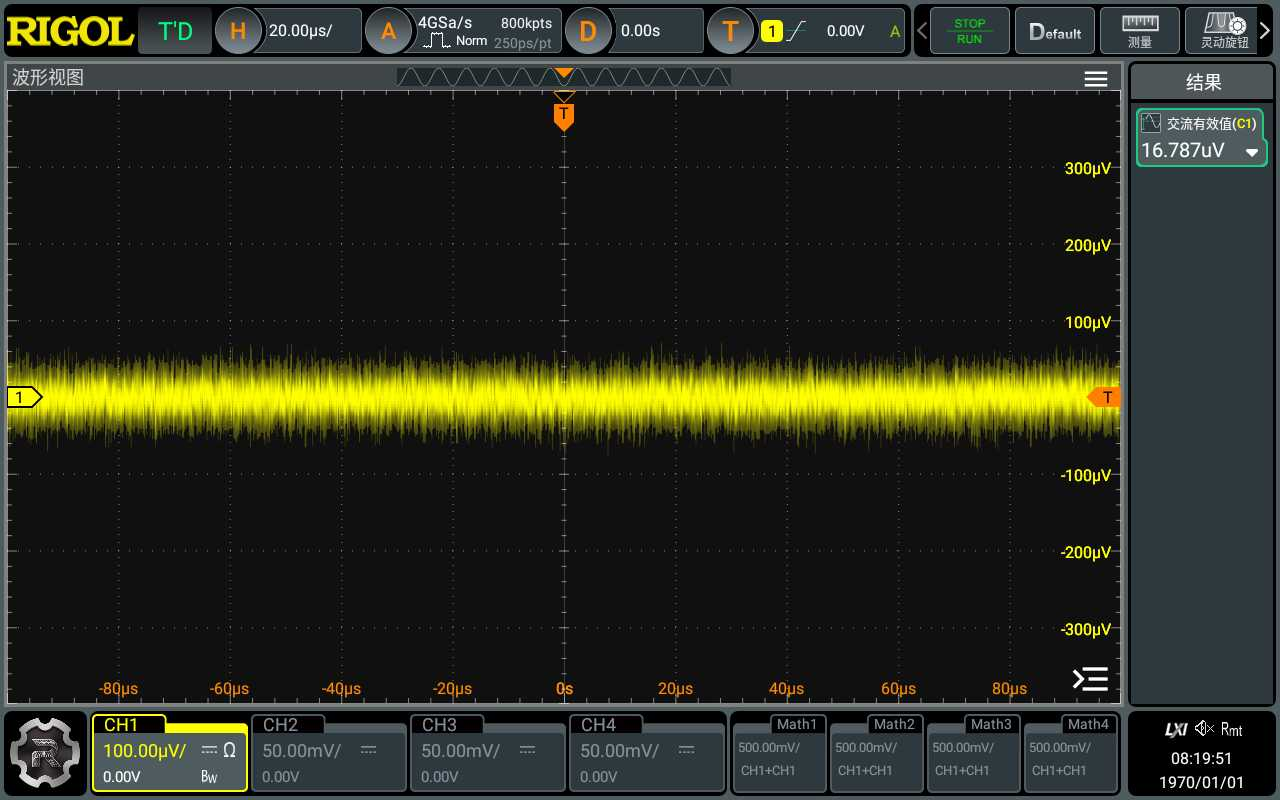 Industry-leading, low noise floor
18uVrms ultra-low noise floor (typical), cleaner signal.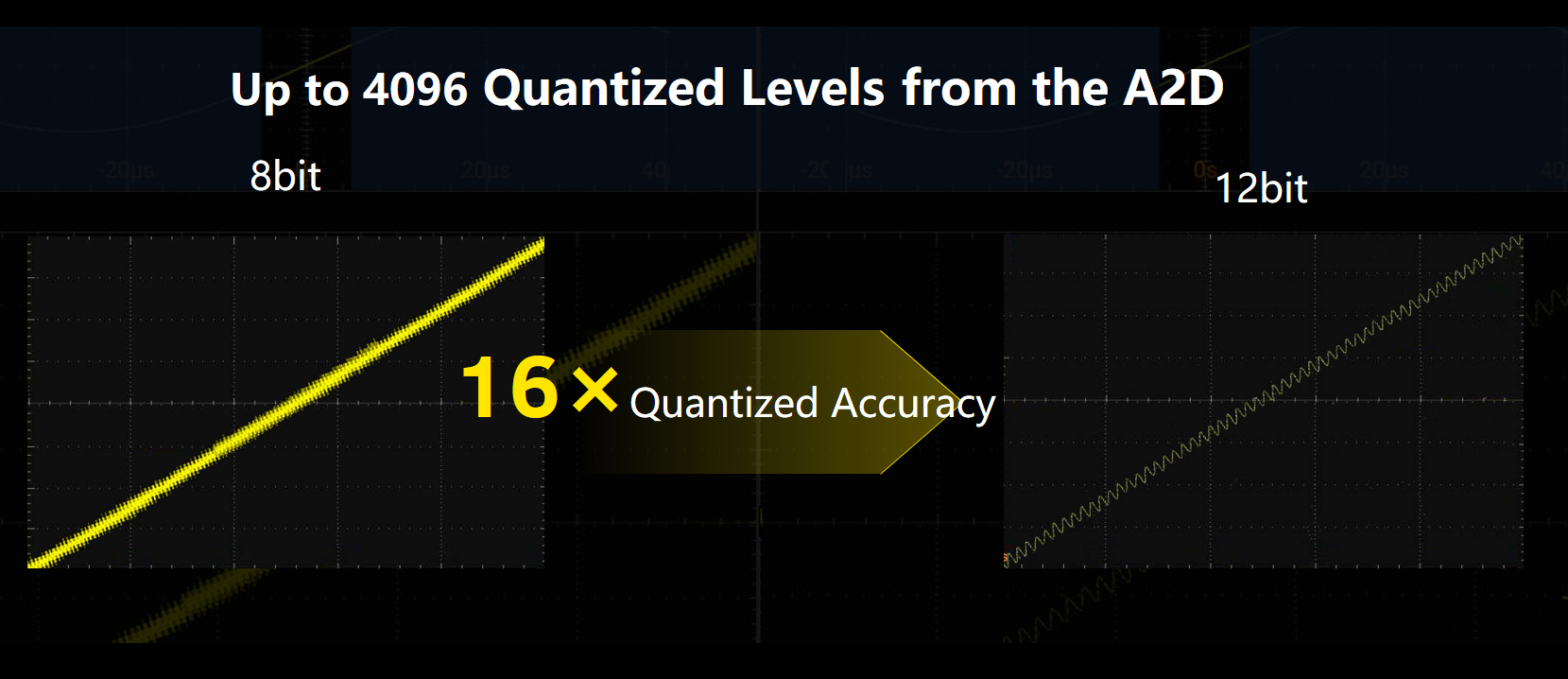 High-resolution 12-bit
All DHO4000 series oscilloscopes are equipped with Rigol's second generation "Centaurus" chipset, which provides 12-bit support.This allows the DHO4000 series oscilloscopes to capture waveforms 16 times more accurately and clearly than their predecessors' 8-bit counterparts.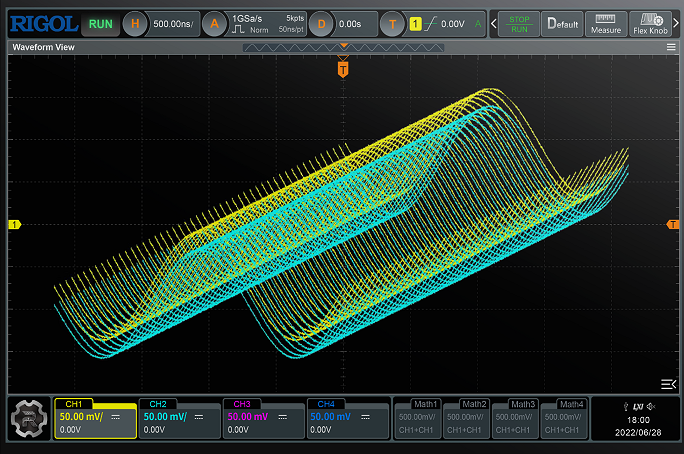 UltraAcquire mode
Supports UltraAcquire mode as standard, up to 1,500,000 wfms/s waveform acquisition rate. Not a single abnormal signal is missed.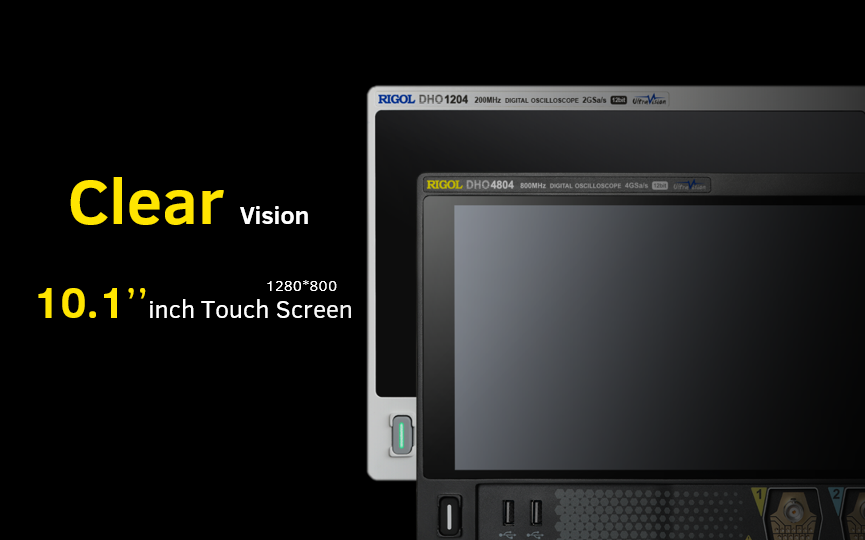 10.1" HD touch panel
Rigol's new UI and 10.1" HD touch panel, supporting engineers with high efficiency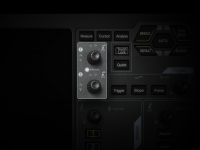 Flex knob button
The dual multi-function knob eliminates the complex switching steps of a single knob, resulting in more efficient interaction.
MODEL

BANDWIDTH

ANALOG CHANNELS

REAL-TIME SAMPLE RATE

MAX. MEMORY DEPTH

WAVEFORM CAPTURE RATE

DIGITAL CHANNELS

BUILT-IN SIGNAL SOURCE

PRICE

DHO4204

200MHz

4

4GSa/s

500Mpts(opt.)

1,500,000wfms/s

-

-

DHO4404

400MHz

4

4GSa/s

500Mpts(opt.)

1,500,000wfms/s

-

-

DHO4804

800MHz

4

4GSa/s

500Mpts(opt.)

1,500,000wfms/s

-

-
SOFTWARE DOWNLOAD
NAME
VERSION
RELEASE DATE
DOWNLOAD
BANDWIDTH UPGRADE
DHO4000-BWU2T4
200M to 400M bandwidth upgrade option
DHO4000-BWU2T8
200M to 800M bandwidth upgrade option
DHO4000-BWU4T8
400M to 800M bandwidth upgrade option
FUNCTIONAL OPTIONS
DHO4000-RLU-05
500Mpts storage depth upgrade option
DHO4000-AUTOA
CAN-FD/LIN bus triggering and analysis options
DHO4000-AEROA
MIL-STD1553 bus triggering and analysis options
DHO4000-FLEXA
FlexRay Serial Bus Triggering and Analysis Options
DHO4000-AUDIOA
I2S bus trigger and analysis options
DHO4000-PWRA
Power Analysis Options
DHO4000-BND
DHO4000 Bundle Option


Hotline

Send Email

Feedback

Services Center