Use Real-time Eye Diagram to Quickly Learn the Quality of High-speed Signals

2022-05-26

2


2
Use Real-time Eye Diagram to Quickly Learn the Quality of High-speed Signals
Case Background: HDMI High-speed Signal Quality Test
HDMI stands for High Definition Multimedia Interface, which is widely used in set-top boxes, personal computers, TVs, game consoles, integrated amplifiers, digital audio sets and other equipment. HDMI is a fully digital video and audio transmission interface that can send uncompressed audio and video signals.
It's very important to guarantee the integrity of the signal. HDMI high-speed signals may be affected by noise, ground ejection, crosstalk, etc. during transmission. Therefore, eye diagram analysis is required to evaluate signal quality.
Test principle: Real-time Eye Diagram Analysis
When the received signal is simultaneously affected by inter-code crosstalk and noise, it is difficult to quantitatively analyze the system performance. In general, oscilloscope can be used to estimate the system performance qualitatively and visually by observing the "Eye Diagram" of the received signal. Engineers often adjust the characteristics of the receiving filter according to the eye diagram to reduce the crosstalk between codes and improve the transmission performance of the system.
Instrument support: RIGOL DS70000 series digital oscilloscope
RIGOL is constantly iterating its products in line with the trend of digitalization. RIGOL introduced DS70000 series digital oscilloscope, which meets the demand of mainstream application market.
l  DS70000 has a bandwidth of 500MHz~5GHz and a real-time sampling rate of 20GSa/s, which meets the testing requirements of high-speed digital system design, Internet of Things (IoT), automobile bus and intelligent manufacturing testing.
l  DS70000 integrated five independent instruments, including oscilloscopes, spectrum analyzers, digital voltmeter, high-precision frequency meters and accumulators, and protocol analyzers.
l  Based on RIGOL UltraVision III technology platform, DS70000 has a maximum refresh rate of 1,000,000 WFM /s and supports 8bit~16bit variable resolution, giving full play to the advantages of the UltraVision III technology platform. Its storage depth, waveform capture rate, vertical resolution and many other key indicators have reached the industry leading level.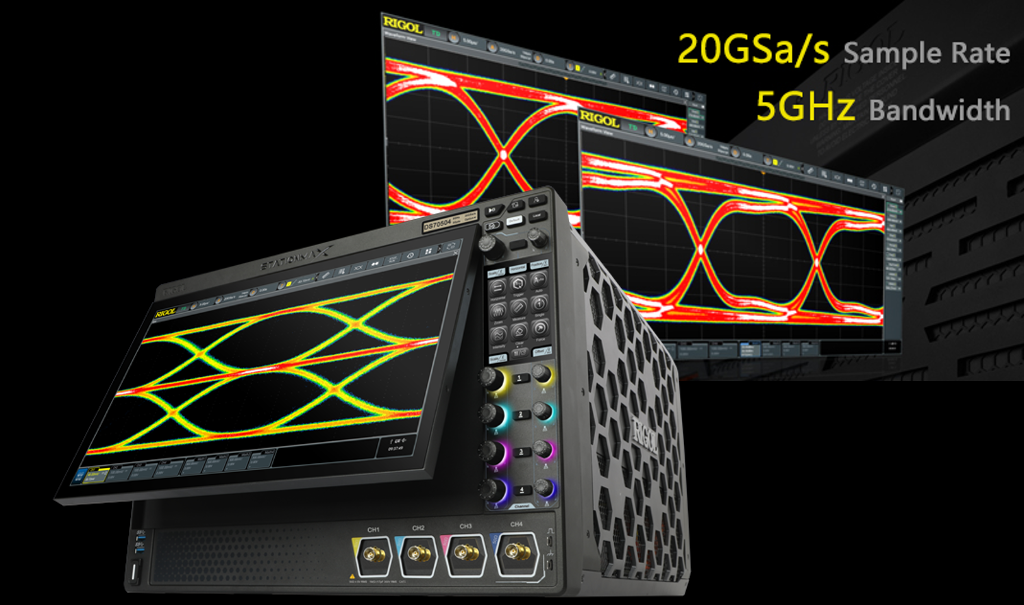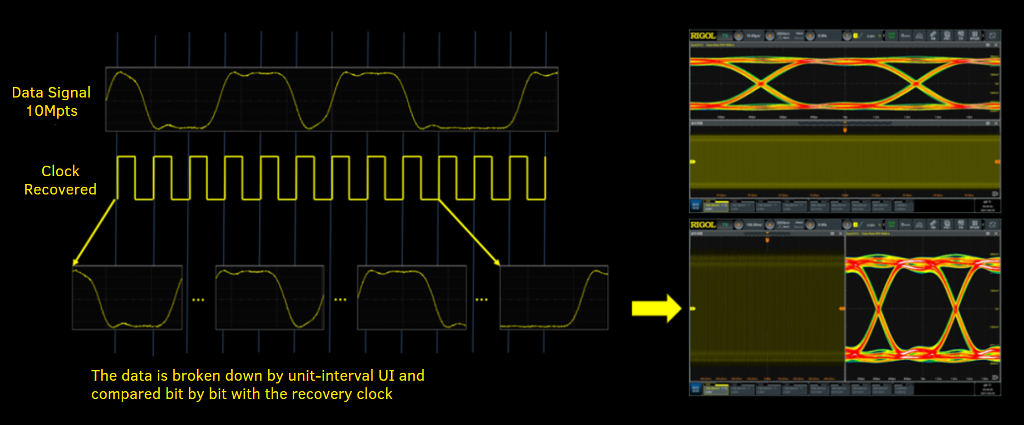 In addition to general-purpose waveform observation functions, DS70000 also integrates a number of test functions to meet the different testing needs of customers.
l  Embedded with RIGOL Real-time spectrum analysis UltraReal technology platform, DS70000 can achieve FFT capture rate of 10,000 wmfs /s, providing real-time spectrum like user experience
l  DS70000 provides high-speed serial bus signal integrity measurement and protocol decode analysis, providing users with reliable measurement verification.
l  DS70000 supports multi-pane windowing. Users can add multiple windows and result display windows for display and view. Users can also adjust the window position by dragging through the touch screen.
Test Preparation
Prepare a digital oscilloscope with real-time eye analysis function. Here we use RIGOL DS70504.
Prepare the test signal. Here we use RIGOL PVA8700 7GHz Active differential probe.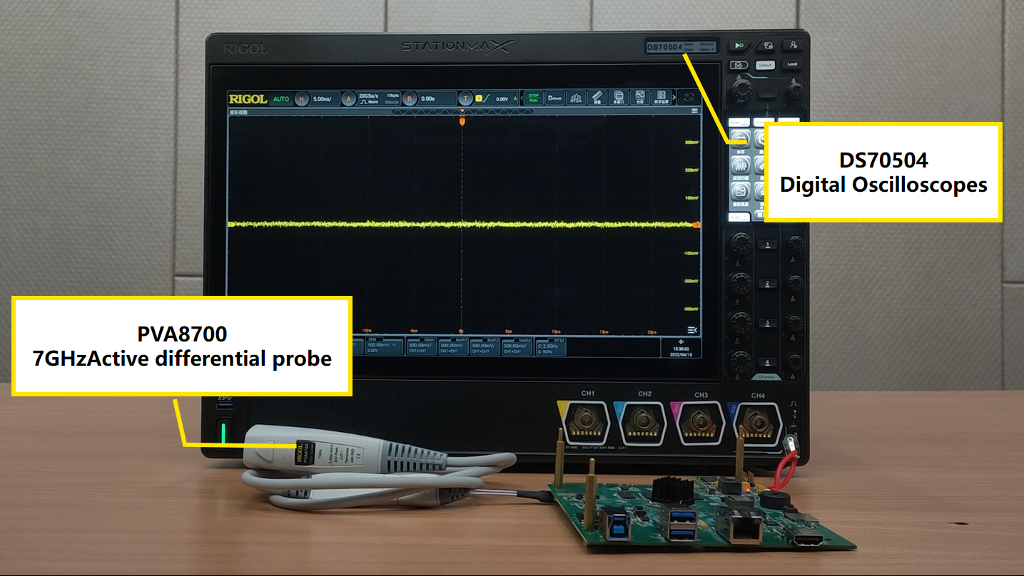 Test Steps
1.   Connect PVA8700 probe to DS70504 oscilloscope to ensure stable signal input;
2.    Adjust the vertical scale for higher dynamic range and adjust the horizontal time base to obtain more signal periods at the highest sampling rate.
3.    Select the eye analysis function, select the source of the eye diagram and set the threshold in the "eye" setting menu.
4.   SET the clock recovery to obtain an ideal clock for comparison to actual signal edges. This test is carried out by Auto data rate type of constant clock recovery.
5.    In the "eye" setting menu, click or tap the ON/OFF tab for the Result menu to enable or disable the display of the measurement results. When enabled, the "Result" list at the right side of the screen shows the eye measurement result.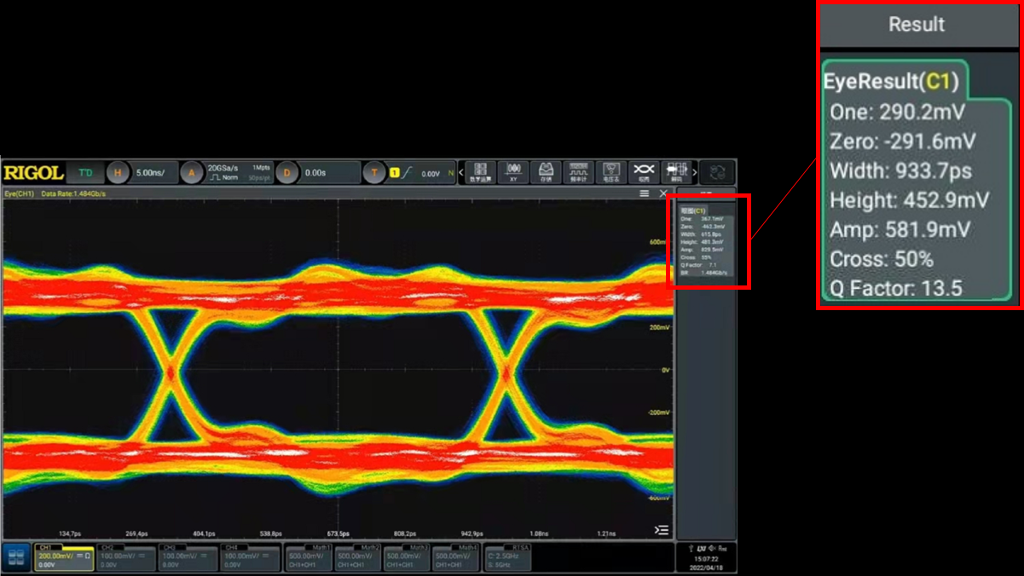 We recommend:
l  RIGOL DS70000 series digital oscilloscopes
l  RIGOL MSO8000 series digital oscilloscopes

2